Категория: Armenian Travel Guid | Новость от: Admin | 11.05.2007, 22:50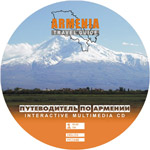 Look at Armenia with our eyes
and she will get closer and more homelike !


Of late, within a project by the Armenian Technological Academy ( www.armic.am ) , the 1-st CD-ROM volume of "Armenia Travel Guide" in Russian and English has been released

The project is being fulfilled jointly with the Association of Nakhichevan Fellow Countrymen. (Nahidzevan hayrenaktsakan miutun) . The disc features around 1000 original photos about Armenia, comprehensive information on architectural and historical monuments. Here you can find the country`s automobile roadmap complete with the system allowing to search the residential localities and locate the shortest distance between them by roadways. You can enjoy armenian music (6 tunes). Employed is the Slide Show providing for the full-screeen automatic review of photos on Armenia. There are also available tips which are a must for any traveler to know about Armenia. If you are keen on visa issuance,flight timetables, weather, currency exchange rate, hotels and much more then you are lucky cause the disc contains a slew of referencies to the Internet resources of Armenia, where all this is in place for you. Any comments on this disc kindly e-mail at: info@concepttravel.org
We plan to release 10 volumes in total which will very comprehensevely focus on hundreds of architectural and historical monuments, artefacts,etc. of Armenia.
Contents of the 1-st volume: YEREVAN, EREBUNY, MATENADARAN, ECHMIADZIN, ZVARTNOTS, SARDARAPAT, KHOR - VIRAP, GARNY, GEGHARD, AMBERD, AHTS (DZORAP), ASHTARAK, OSHAKAN, TATEV, CAVE CITIES, NORAVANK, SPITAKAVOR, SEVAN, HAGHARTSIN, MAKARAVANK, GOSHAVANK, JUKHTAKVANK, MATOSAVANK, SANAHIN, HAGHPAT, DADIVANK, ANI, HISTORICAL INFORMATION ON ARMENIA, OUSTANDING CULTURE SELEBRITIES OF ANCIENT ARMENIA, ARMENIA IN FIGURES, CHURCH-ARCHITECTURAL MONUMENTS OF AREA, USEFUL INTERNET LINKS, MAP OF ARMENIA CAR ROADS

WE INVITE TO COOPERATION ALL THOSE WHO WISH TO PARTAKE IN OR CONTRIBUTE TO THIS PROJECT!
Наш рассчетный счёт (драмовый) 247010041751 Ардшининвестбанк, Армения. Рассчетный счёт ( USD ) 247010041751/0001 Ардшининвестбанк, Армения.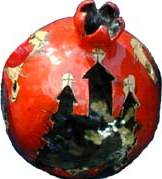 The 2-nd volume of the CD-ROM is in the pipeline.
The contents of the 2-nd volume: ARMENIAN ALPHABET, CHURCHES of YEREVAN, SELIM the CARAVAN the SHED, the CARAVAN the SHED IN JZRAPI, GLADZOR, EHEGIS, ARENI, SBATABERD, TANAATVANK, MARTIROS, SISIAN, KARAUNDZ OR ZORATS KAR, VAGANOVANK, KHAPAN: MONUMENT NZDE, NEW CHURCH, MEGRI, ODZUN, AHTALA, KOBAJR, GUMRI, ANI-PUMICE (YERERUJK), TSAHKADZOR, NEKHUTSAVANK, FORTRESS KOSH, EGVARD, BZNI, ARAGATS, GANDZASAR, NAKHICHEVAN and NAKHICHEVAN-on-DON, DZUGA - NEW DZUGA (in Iran), Gods and deities worshipped in pre-Christian Armenia, History of Christianity in Armenia, Information on the armenian archbishops, Ancient Armenian calendar, Armenian church holidays, Armenia`s renowned cultural people, Prominent Armenian painters, Famous armenian writers and poets, Famous Armeniann actors, Armenia`s capitals, Armenia`s royal dynasties, Historical domains of Armenia, Armenian cuisine.
"Armenian Travel Guide" iz THE PROJECT OF ARMENIAN TECHNOLOGICAL ACADEMY In project will be edition of 10 CD disks of the "Armenia Travel Guide" in which will be descriptions hundreds architecturally historical monuments of Armenia. Above a disk worked: Vanush G. Davtyan - the general management and and photos Suren V. Galstyan -WEB design Ashkhen N. Davtyan - the composer and the editor of russian texts Hovannes A. Sargsyan and Alexander E. Grigoryan - GIS map of Armenian car roads Tigran M. Babasyan - translation into English language